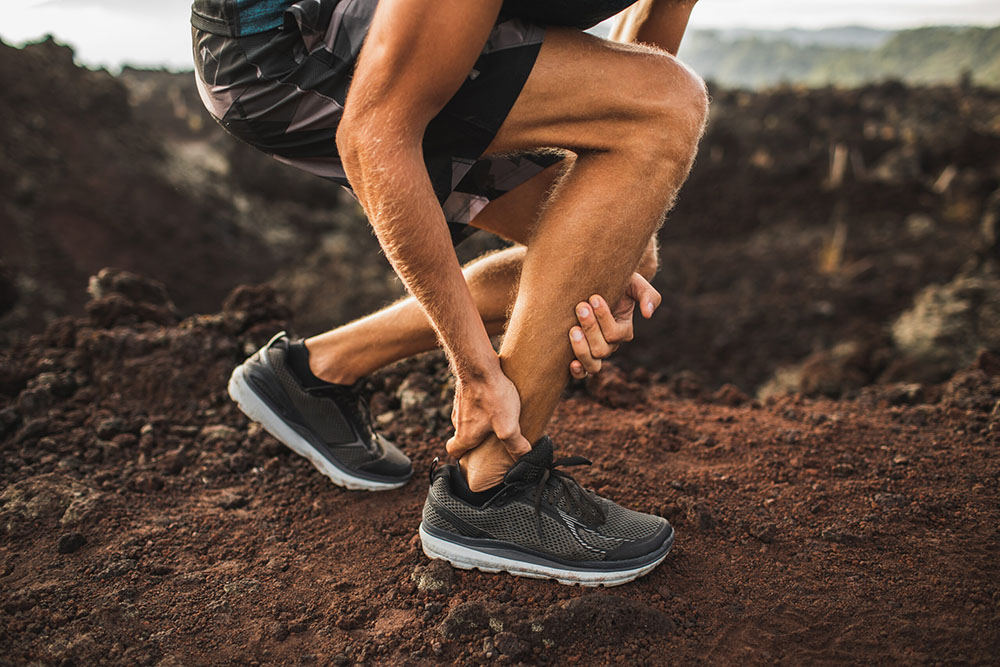 What is an achilles rupture?
Achilles rupture is where the achilles tendon that joins the calf to your heel tears. Typically this means surgery; however conservative management is a viable option.
The calf muscle is the one that allows us to push down through our toes and raise on our toes.
It's really important in walking running and jumping.
A torn achilles makes general life very difficult.
It tends to occur in middle aged persons, hence its nickname "the old mans disease". David Beckham, Kobe Bryant and Jarryd Roughead have all been victims.
Why choose conservative management for Achilles Rupture?
A few years ago, a patient who is quite holistic, approached a surgeon I work closely alongside wanting conservative management for her recently torn achilles.
Her brother was an Orthopaedic Specialist in Germany. He suggested that a non operative approach was the best way to manage an achilles rupture.
My experience was certainly based around rehabilitation post surgical reconstruction, as was the surgeons I work with. However she talked us around, and with her brothers protocol in hand we nursed her through the next few months back to full recovery. She was happy, and it set the ball rolling for us.
Whilst we didn't then treat every patient from then on conservatively, when patients were not a great surgical candidate we went the conservative route.
These patients too did well. And so gradually we started to see more and more clients who were choosing the non operative route.
Now, if it were my achilles that was torn, I would manage it conservatively.
So whats the difference between conservative and operative Achilles Rupture Management?
Well obviously one requires an operation to sew the torn ends back together and the other leaves the job for mother nature.
This means that there is a whole list of complications that operations can cause that are not apparent with conservative management.
Firstly, feet are slow healers. As such one of the biggest issues with achilles repair is wound breakdown and infection.
This can cause massive delays in the rehabilitation process.
It also means you have to take it easy for the first few weeks. Think lots of foot elevation to ensure the wound heals.
Because there is also an incision and stitches, pain is also an issue.
And then there is also the risks of having an anaesthetic.
Conservative management lets mother nature do the job along with a structured rehabilitation program.
Whats the difference in the rehabilitation?
Rehabilitation for both of the procedures is similar.
A gentle progression of weight bearing, stretching and strengthening exercise commence in the first few weeks.
A boot is worn to protect the achilles through the first few months and this is gradually weaned as the strength and range returns.
I prefer the Vacoped as it has all the bells and whistles to progress patients through the next few months; its also handy to have a spare liner as they tend to get stinky!
How long does it take to recover an Achilles Rupture?
I tell patients with both procedures that it will take about 12 months to recover.
But by 4-6 months they shall be moving around gently without too much issue.
Heavier loads can commence as ability allows from this period, but it's really 12 months before they don't think about their injury any more.
What are the Outcomes?
Well some studies say there is no difference between the two for long term outcomes.
I am still learning the long term effects (its only positive), but I work on under promise and over deliver, so as such, I tell patients that there is a 10% change of re-rupture over surgical management.
There may also be a small weakness compared with the other side, but this would be generally unnoticeable in the population we are speaking with.
If you play competitive sports, then I tend to recommend surgical intervention.
Time of rehabilitation is roughly the same, but the conservative program is easier in the first few weeks as you are walking on the foot sooner, and you don't need to spend the first two weeks with your foot elevated following surgery.
Either way however, you are going to get pretty good on crutches.
In light of all this, we are seeing more and more patient adopt the conservative route, with great outcomes to boot.
I have only had one fail, but he was an older man who stepped into a rabbit hole in the early stages of his recovery.
As such, I tend to suggest conservative to all my achilles ruptures.
Glenferrie Sports and Spinal Clinic is located in Hawthorn. Situated conveniently near public transport and with convenient parking it is central to Camberwell, Kew, Richmond, Toorak and Malvern.
For appointments call 03 9815 2555, or book online here